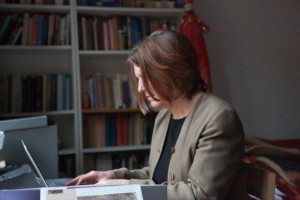 I'm an historian specialising in Czechoslovakia, English Catholicism, and religion in Eastern Europe during the Cold War.
I was educated at Vassar College in New York (BA History, departmental and general honors, Phi Beta Kappa, History Prize, 1987) and at Magdalen College, Oxford (1988-1992). I was awarded my DPhil in Modern History from the University of Oxford in 1993.
Before being appointed to the Chair of Modern History at Cardiff University, I was a Research Fellow at Newnham College, Cambridge (1992-5), Lecturer in History at the University of York (1995-6), Research Editor at the Oxford Dictionary of National Biography (1996-7) and Senior Lecturer, then Reader, at the University of Strathclyde.
I have won various research grants (AHRC, Leverhulme, Maguire). I have also held visiting fellowships (at Charles University in Prague and Masaryk University in Brno).
I am on the editorial boards of the journals Europe-Asia Studies (formerly Soviet Studies), The Innes Review (Edinburgh University Press) and British Catholic History (Cambridge University Press). I also contribute annual summaries of Czech scholarship to the English Historical Review (Oxford University Press).
I was for many years an Associate Editor for the Oxford Dictionary of National Biography (Oxford University Press), with responsibility for English Catholic subjects. I also worked on The Gladstone Diaries and History of the University of Oxford projects.