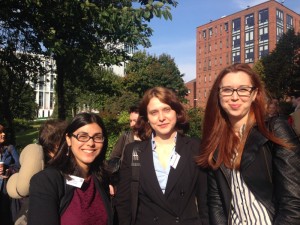 I welcome and enjoy supervising Masters and PhD students in Modern History.
My areas of particular expertise include: Czechoslovakia; English Catholicism; Communism; Science and Religion; East-Central Europe; the Cold War.
I am based at the School of History, Archaeology and Religion at Cardiff University in Wales. Apply to Cardiff University
I have long experience of supervising doctoral and other postgraduate students to successful and timely completion.
Current/recent PhD students include:
Stephen O'Donnell, 'Trans-National Slovak Nationalism, circa 1890-1914′ (fully-funded PhD; degree expected 2017)
David Green, 'The Czechoslovak Communist Party's Revolution' (ESRC-funded PhD; degree awarded 2014)
Jennifer Dowie Roe, 'Spiritualist Summer Schools, 1860-1900' (PhD awarded 2011)
Gregory Williams, 'Cultural Policy and the Czechoslovak Communist Party, circa 1970-1988′ (fully-funded PhD; in progress)
Beatrice Michalovska, 'The Battle for the Czechoslovak Airwaves' (PhD on hold)
Kristof Smeyers, 'Blood Ties. Stigmatics and Society in Victorian Britain', (co-supervising with Tine Van Osselaer at the University of Antwerp), begun 2017.
Other dissertation topics I have supervised to successful completion include:
A Study of Censorship: Law and Order during Dubček's Normalisation
Radio Free Europe in Czechoslovakia, circa 1974-1984
British Phrenology in Crisis, circa 1880-1930
Czechoslovak Representations at the Paris Peace Conference 1919
The Development of Francis Galton's Eugenics Theory from 1865-1911
The Czechoslovak Exile Government in London, 1939-1945
Satires of Communism in Czech Film of the New Wave
Nazi Constructions of Childhood in Theresienstadt Concentration Camp
Religious Practice among English Catholics, circa 1829-1850
Edvard Beneš and the Expulsion of the Sudeten Germans, 1938-1945
The Communist Party of Great Britain's Response to the Warsaw Pact Intervention in Czechoslovakia in 1968
Cardinal Jozsef Mindszenty: A Cameo of the Cold War
How Distinctively Czech was the Velvet Revolution of 1989?
Edvard Beneš's Role in the 1948 Communist Coup
Portrayals of the 1968 Invasion of Czechoslovakia in British Print Media
Spiritualism in Nineteenth-Century Scotland
Sketches of Holy Women in Nineteenth-Century Methodism
Catholic Social Thought and Action in the 1930s in England
Postgraduate Summer School at NYU in Prague
I designed and co-ran the 5th CRCEES Postgraduate Research Methodology Summer School held at New York University in Prague (11-20 July 2011). This brought together 20 doctoral students and 15 academic experts from universities across Europe, including Britain, the Czech Republic, Germany, Russia, Ukraine, Poland, Kazakhstan and Serbia. The AHRC, SFC and HEFCE funded the ten-day residential postgraduate summer school. Review of Prague Summer School
External Examining
University of St Andrews (2016)
University of Aberdeen (2014)
University of Edinburgh (2014, 2015, 2016)
University of Glasgow (2015)
University of Oxford (2008)
University of York (1998)
Victoria University Wellington, New Zealand (2016)